Current Mood:

sad
Last night, the BET Awards opened with a bang. The two actresses who played the role of Effie from the hit musical, Dreamgirls, performed the show stopping song, And I Am Telling You. Jennifer Holiday and Jennifer Hudson brought the house with their spectacular rendition of the song that helped both of them become famous. Get ready to be blown away.


we're supposed to go on our annual summer trip to Boracay but it hasn't pushed through because we're both busy with work and trying to work out our budget. we haven't been able to fix the dates cos it's hard to file for leave from work & get approval. totally sucks. we've set up a tentative date this june 11-13. hopefully, we finally get to go cos summer is almost over and it's been raining this past week. i have to go to the beach and get even a little bit of a tan.
i finally got to see my good friend, Lot, today. we watched Pirates of the Caribbean: At World's End at Robinson's Galleria. it was great seeing her again cos we hadn't seen each other since last year when we went to Boracay.
Current Mood:

hopeful

Current Music:

listening to never again by kelly clarkson
Your Travel Personality Is: The Sophisticate

You're well educated and cultured, and the places you travel to reflect that.
You appreciate the best art, food, architecture, and local flavor.
A true traveler, you are destined to be multi-lingual and very worldly.
Current Mood:

hungry

Current Music:

leaving on a jetplane by chantal kreviazuk


linds, jersh & i kept ourselves amused by speculating about the personalities of our fellow patrons at the bar. they told me they were actually eyeing three guys sitting across our table. but, after a few minutes the two of them realized all of them were gay. haha!

i was able to persuade the girls to go with me to club government cos i was meeting my friend, nikolai, there. jersh was a bit nervous since it was her first time going to a gay club. it was a bit disappointing that there were only a few people there. when we went upstairs, nikolai was there hanging out with our good friends, rich, rc , mark & john. it was awesome to see that jersh & linds enjoyed themselves chatting and dancing the night away with my friends. jersh said it felt like she was really at babylon (the gay club in Queer as Folk). although, she & linds kept telling me that they were broken up over the fact that all the hot guys there were gay and that they had no chance of hooking up with any of them. but they were happy they made a couple of new friends. and they both love nikolai who acts like my boyfriend but is really is like my little brother.

we finally called it a night at 3am after i extracted a promise from jersh and linds that they were going back there again with me soon.
last saturday, i had a great girls night out with lindsay and jershey. i met up with them at tiananmen bar after work. both girls where a bit flushed when i got there as they'd already had 3 glasses of vodka currant with seven up each. they told me they ordered us a bottle of red wine which they asked to have chilled til i arrived. we also ordered nachos & tofu to eat while drinking the wine.
Current Mood:

mellow

Current Music:

i don't need a man by pussycat dolls


i had fun celebrating christmas with my friends and family. on dec. 23, i went to my friends' club after work with a couple of my closest friends. we had fun dancing and drinking til 345am. i went home to pick up my sister and then we went to church for misa de gallo or midnight mass which is a Filipino Christmas tradition. afterwards, we went to mcdonald's for breakfast cos she promised to treat me if i went to mass with her. good thing too cos i was so hungry by then. we went home after eating and slept.

on christmas eve, i went to the salon to get a manicure and then went to mass with my family. we had noche buena at the house and then opened our presents. i got some stuff like leggings, a new wallet, a necklace, a bag, perfumes, and faux big ass gold & diamond hoop earrings which is my fave. the next day, christmas day, we all went to one of my sister's house for lunch. we also chatted to our sisters living in LA via webcam. it was also fun watching all my nieces and nephews play together cos we don't do that often.

the next day, i met up with my FF friends so we could see our balikbayan friend, jan. we had lunch at sbarro in megamall and then had coffee at starbucks. it was great to catch up with her since it's been two years since she last came home to manila for a visit. hopefully, we'll be able to see her again before she goes back to san diego on jan. 7.
belated merry christmas everyone!
Current Mood:

hungry

Current Music:

listening to Deeper and Deeper by Madonna
Current Music:

all i want for christmas by mariah carey
the launch was scheduled at 3PM and it started a few minutes after 3PM. we got good seats and were fortunate enough to be seated nearest the stage. MiG sang 4 songs from his new album. he sang "kiss from a rose", "wrapped around your finger", "angie" and, of course, "baby i love your way." what's great about the album is that it's unique arrangement in that it was done with a wonderful orchestra. as a treat, MiG also sang "we will rock you" acappella when someone shouted it out as a request. MiG asked those of us near the stage to bang our hands and clap to accompany him. my hands were so red and hurting by the time MiG was done with a song but it was so much fun.
after the showcase, MiG had an autograph signing so we all got our cds and other stuff signed. i was the very first person to meet MiG & have my cds signed (i bought one for Lindsay). i introduced myself and MiG shook my hand with his big smile. he signed both cds, even though this lady from MCI Universal insisted MiG will sign only one item each. i told MiG i was friends with his cousin, tessa. when he was done signing the cds i gave him a xmas gift i bought for him and simmy, his wife. he thanked me and wished me a merry xmas as well. aleck, our MAP president, took my picture with MiG. here it is: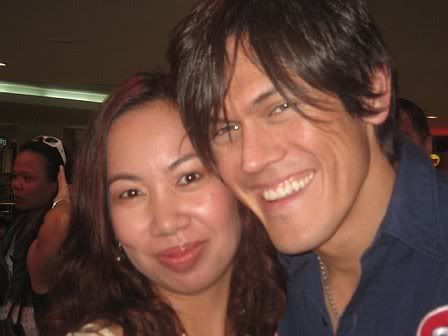 MiG gave me a hug and a kiss on the cheek before we said goodbye. after getting off the stage, this reporter from GMA 7 asked me if he can interview me. he just asked me why i'm a MiG fan. i answered because he's proud to be a Filipino and shares it with the world through his music. i was in a daze but i should have said no cos i felt embarrased afterwards thinking that my friends who might see it will say i'm baduy.
anyway, after the other MAP members got their cds signed we approached simmy who greeted all of us warmly. she told us that they will be spending the holidays in australia. MiG's album will be launched there in january as well. the album will then be released in the US & Canada in march. i introduced myself to simmy since it was the first time i really saw her. we also talked about tessa and i mentioned that tessa showed me her bday pictures which were taken during MiG & simmy's last visit to manila. i told her about the xmas gift as well cos i was worried MiG would forget to get it from the table after the signing. she thanked all of us and greeted us a merry xmas as well.
when the signing was finished, we got to have a group picture taken with MiG. he was running late for another appointment but he made sure we got another picture with him. here it is: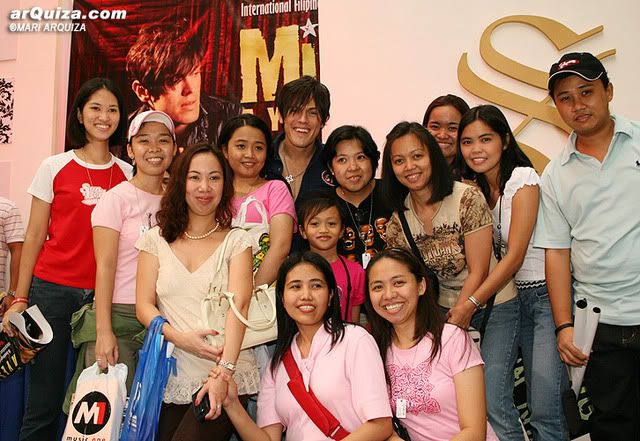 hopefully, MiG's plan to have a full length big concert here in manila during the first quarter of 2007 will push through.
last december 7, i was lucky enough to go to the album launch of MiG Ayesa at SM Megamall. i met my friends from the MiG Ayesa Philippine Fans Club (MAP) an hour before the show. we bought our copies of MiG's cd at the atrium and got free posters as well.
Current Music:

baby i love your way by MiG Ayesa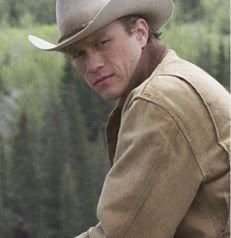 You are Ennis Del Mar. Fair, strong, and willful, you take time to consider your decisions and you stand by what you believe in.
Find out who you are take the quiz! http://www.quizilla.com/users/nixierox/q
uizzes/What%20Brokeback%20Mountain%20Cha
racter%20Are%20You%3F%20-pictures%2C%205%2
0q%27s%21
How obsessed are you with Brokeback Mountain?
You are very obsessed just like me. Good job I am proud.
Take this quiz!
Current Music:

the last time by eric benet